Drug boss Telly Hankton, hit man Walter Porter found guilty of 3 murders each in blockbuster trial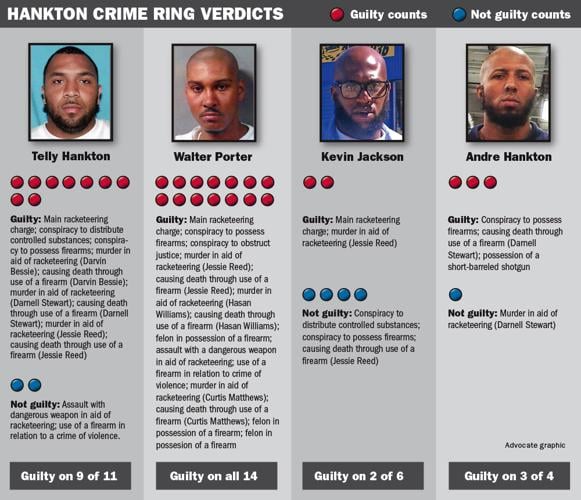 Advocate staff photo by MATTHEW HINTON–Ike Spears, attorney for Andre Hankton, leaves court after his client was found guilty on two charges but spared a possible life sentence. Andre's cousin, Central City gangster Telly Hankton, was convicted on numerous federal charges including at least one violent death at Federal Court in New Orleans, La. Tuesday, June 28, 2016.
The murderous saga of Central City drug boss Telly Hankton and his lethal admirers culminated Tuesday in a New Orleans federal courtroom, where a jury returned guilty verdicts on 28 of 35 charges in the racketeering case against Hankton, Uptown hit man Walter Porter and Hankton cousins Andre Hankton and Kevin Jackson.
Among other crimes, Telly Hankton and Porter each were convicted on three counts of murder in aid of racketeering, a charge that carries a life prison term.
Mayor Mitch Landrieu issued a statement Tuesday night saying, "Justice has been served as murderer and notorious gangster Telly Hankton has been convicted by a jury of his peers." Landrieu said, "Hankton and his co-defendants terrorized our streets for years" and "epitomized the culture of violence in our city."
All told, Telly Hankton, 40, was convicted on nine of the 11 counts he faced. The jury acquitted him on a pair of counts related to a gun attack in October 2010, while Telly Hankton was behind bars, on an innocent witness to one of those murders.
The jury convicted Porter on all 14 counts he faced. He lashed out at the verdicts, suggesting the feds tainted the trial through extensive news coverage of the Hankton prosecution.
"All that stuff you put out there poisoned the well of the jury," Porter said, howling that he was "railroaded" as the jury of eight women and four men exited the courtroom.
The jurors reached their unanimous verdicts about 2 p.m. on the third day of deliberations in a trial that began June 6.
Prosecutors portrayed Telly Hankton throughout as the vengeful enforcer of a cocaine-dealing monopoly centered around his family's Josephine Street stronghold.
Telly Hankton's drug-dealing ways dated back some two decades, according to a 24-count federal indictment first handed up in 2012. The indictment named Telly Hankton and his family members or associates in five murders allegedly committed in defense of their business.
Most of the 13 original defendants are Hankton family members. Nine of the defendants, including Telly Hankton's mother, Shirley, pleaded guilty before the trial, though none agreed to testify in the case.
Telly Hankton already is serving a life prison sentence from a 2011 state murder conviction for one of the same killings for which he was found guilty Tuesday. That was the May 2008 slaying of Darnell "Durney" Stewart, a neighbor and Hankton drug rival who was run down, then gunned down under the streetlights of South Claiborne Avenue.
The jury also found Telly Hankton guilty in the March 2006 killing of another rival, Darvin Bessie, and the June 2009 slaying of Jessie "TuTu" Reed in a barrage of 50 bullets from five guns on Terpsichore Street.
All three murder victims had joined in challenging Hankton's exclusive drug turf, prosecutors said, in a feud that dated to the early 2000s. The bloodshed and subsequent killings began with the December 2007 slaying, allegedly by Stewart and Reed, of a beloved older cousin, George "Cup" Hankton, who is Andre Hankton's brother.
Among the shooting victims were a witness to Reed's murder; John Matthews, a daiquiri shop owner who survived at least 17 gunshots to testify against Telly Hankton in state court concerning Stewart's killing; and John Matthews' brother, Curtis Matthews, who was gunned down a few days after a state judge sentenced Telly Hankton to life in prison.
Porter committed that murder, the jury found.
Prosecutors also accused members of the clan of paying for a false alibi that two women lent Telly Hankton at his first state trial in Stewart's killing, which ended with a deadlocked jury. Another jury convicted him in a retrial.
Citing his allegedly bloody scorn for the criminal justice system, city leaders have more than once labeled Telly Hankton as one of the city's most dangerous criminals.
Meanwhile, witnesses described Porter as a hit man who eagerly solicited business from the Hanktons, joined in Reed's killing and then bragged loudly about it.
Porter, 40, awaited a life sentence even before Tuesday's verdict, having been convicted in March but not yet sentenced for an unrelated $20,000 contract killing in Gretna.
The jury Tuesday convicted Porter on three counts of murder in aid of racketeering, for Reed's killing; the slaying two weeks later of a witness to Reed's murder, Hasan "Hockie" Williams; and the death of Curtis Matthews.
Former associates suggested that Porter was seeking to make amends for failing to kill John Matthews, to keep him from testifying against Telly Hankton, when he mistook Curtis Matthews for his brother and killed him.
The jury also found Porter guilty in John Matthews' shooting, which prosecutors portrayed as a contract hit ordered by Telly Hankton from jail and joined in by another Hankton cousin, Thomas "Squirt" Hankton. He pleaded guilty before the trial, accepting a 25-year sentence.
The jury, however, rejected a claim that Telly Hankton ordered up the failed hit on John Matthews from jail; it acquitted him on the two counts he faced in relation to that shooting.
Robert Toale, one of Porter's attorneys, pointed to a relentless parade of inmate witnesses as well as ballistics links attributing several murders to Porter.
"I'm just not surprised," Toale said of the verdicts. "There was a lot of snitch testimony that, after awhile, the jurors must have felt was believable."
Split verdicts for the other two defendants left their supporters and attorneys confounded.
Prosecutors accused Jackson, 42, of joining Telly Hankton and Porter in the fatal assault on Reed. But the jury apparently decided that Jackson planned but didn't join in the fatal gun assault.
Though it convicted him of murder in aid of racketeering, the jury found Jackson not guilty of causing death through use of a firearm in Reed's murder. It also acquitted Jackson on drug and firearms conspiracy counts.
"I really don't have a clue," Jackson's father, Darryl Hill, said of the mixed verdict. "They're saying he didn't have a weapon."
Jackson's attorney, Michael Fawer, echoed that sentiment.
"How you can be found not guilty of possession of a weapon and found guilty of murder is beyond me," Fawer said. "We all know the Reed murder was done with a gun, and he's not convicted of having a gun in his possession."
Fawer expressed hope the odd verdicts will support a motion he has filed for a post-verdict judgment of acquittal.
Asked about his client's reaction, Fawer said, "He didn't understand. How could you?"
In Jackson's case, the jury may have leaned on cellphone records showing that he and Porter traded 239 phone calls over a two-week period around the time of Reed's murder, including more than two dozen calls on the day of the killing. A former girlfriend of Porter also testified that the couple visited Jackson's home in Venetian Isles to collect payment for Reed's murder.
The fourth defendant, cousin Andre Hankton, played a limited role over the three-plus weeks of the trial.
He was accused mainly of driving a Mustang into Darnell Stewart in May 2008. Prosecutors said he slammed into Stewart, sending him flying before Telly Hankton strode up and fired a line of fatal bullets into Stewart's face.
Police arrested Andre Hankton a few minutes later, finding a gun on the Mustang's floorboard and Telly Hankton's fingerprints on the passenger door.
The jury acquitted him, however, on a charge of murder in aid of racketeering. Instead, he was convicted of causing death through use of a firearm, along with a firearms conspiracy count and a lesser charge of possessing a sawed-off shotgun.
Ike Spears, Andre Hankton's attorney, argued that his client took aim at Stewart simply as "revenge" for Cup Hankton's slaying. "It has nothing to do with RICO (the Racketeer Influenced and Corrupt Organizations Act)," Spears argued. "It has everything to do with emotion."