'The gentle dove': Phyllis M. Taylor to receive The Times-Picayune Loving Cup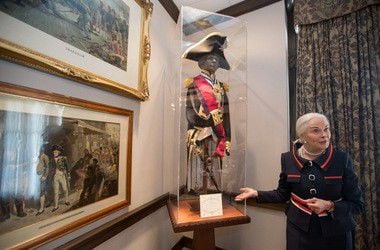 Phyllis Taylor shows a replica uniform ensemble of Vice Admiral Horatio Nelson at the Lee Circle headquarters of the Patrick F. Taylor Foundation.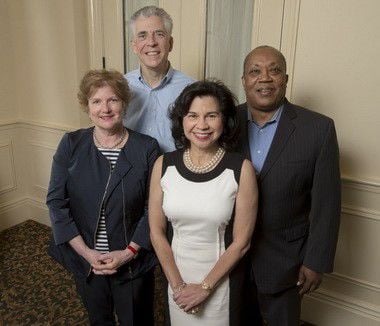 Members of the 2015 Loving Cup selection committee are, from left to right: Martha M. Landrum, Greater New Orleans Foundation; James R. Kelly, Covenant House; Sonia Perez, AT&T Louisiana and Xavier University Board of Trustees; and Neil Barclay, Contemporary Arts Center. Not pictured: Mark Romig, New Orleans Tourism Marketing Corporation.
Loving Cup winner Phyllis Taylor
Phyllis Taylor is the The Times-Picayune Loving Cup recipient for 2015.
(Brett Duke, NOLA.com | The Times-Picayune)
For years, Phyllis M. Taylor has been a go-to philanthropist in New Orleans, a person on whom institutions have relied for big donations for projects in education, religion, the arts, the military and more.
But countless members of the community can attest to the fact that Taylor, who runs the energy company and charitable foundation that her late husband founded, is much more than a woman who awards grants and signs sizable checks. She also is someone who takes a deep personal interest in the beneficiaries of the Patrick F. Taylor Foundation's largesse, which amounts to more than $50 million since the billionaire oilman established it in 1985.
For such service, Taylor has been chosen to receive The Times-Picayune Loving Cup for 2015.
The Loving Cup has been awarded since 1901 to men and women who have worked unselfishly for the community without expectation of public recognition or material reward. The award will be presented in a ceremony this summer.
"I'm stunned," Taylor said on Thursday morning, minutes after learning that she had been picked. "I have to say it's a recognition not necessarily of me but of the gratitude of the community for those that try to make our environment a safer, healthier, better place to live."
"I can not think of a more deserving Loving Cup recipient than Phyllis Taylor," said NOLA Media Group Publisher and Executive Vice-President David Francis. "She embodies the passion for public service that this prestigious award has celebrated for 115 years."
Added Ricky Mathews, President of NOLA Media Group, which operates NOLA.com and publishes The Times-Picayune, "You would be hard pressed to find another individual who has done more to advance educational opportunities for the young people of this city and state."
Taylor is a local luminary in every sense of the word, an understated, impeccably attired figure whose mere presence seems to elevate in importance the luncheons and other grand occasions where her foundation's gifts are announced. When she's not at such events, Taylor works in the Lee Circle building that used to be the New Orleans Saints headquarters.
Taylor, 74, may seem distant from other mortals, but she insists that isn't the case. "I'm the little girl with the bow in her hair from Abbeville who never perceived that her life would be such as it is," she said.
Friends say that the woman who was once the queen of the annual Yambilee Festival isn't quite so simple as she would have you believe.
"She has worked very hard all of her life to make things better," said Charlotte Bollinger, who traveled with Taylor to New York to see a performance at Carnegie Hall by a promising musician whom the Patrick F. Taylor Foundation had helped.
At an age when many people have retired or are considering becoming less active, Taylor seems energized by her diverse agenda, which has included working with a long list of institutions, including the New Orleans Museum of Art; Tulane, Loyola and Xavier universities; the New Orleans Ballet Association; the Congressional Medal of Honor Foundation; and Hotel Hope, which provides housing for homeless New Orleans area women and their children.
"The challenges of the day get me up in the morning," Taylor said. "I'm never too sure what the day will hold."
Taylor was sitting in a room in the Taylor Building with a commanding view of Lee Circle. In a corner, a sculpture of a screaming eagle overlooks a replica of Thomas Jefferson's desk, a thank-you gesture from the Smithsonian Institution for the foundation's gift to its National Museum of American History.
Another reminder of the foundation's activity was in a downstairs room where gleaming tables were set, with a menu at each plate, for a luncheon for 19, including eight LSU medical students who had received financial help from the Taylor foundation.
Taylor, whose white hair was pulled back in a ponytail, wore a navy-blue suit with a few red and white stripes. Three strands of pearls encircled her throat, complemented by pearl earrings with tiny diamonds.
When she spoke, Taylor chose her words carefully, delivering them in a cello-like voice that calls to mind the legendary actress Olivia de Havilland.
She has had plenty of experience in public speaking. At Mount Carmel High School in Abbeville, where Phyllis Miller was valedictorian of the Class of 1959, debate and public speaking were her major interests. After earning a degree at the University of Southwestern Louisiana (now the University of Louisiana at Lafayette), she entered Tulane Law School, where she was one of three women in the first-year class.
After graduation, she was a clerk for all nine Civil District Court judges and then for state Supreme Court Justice Mack Barham. From there, she moved on to be in-house counsel for John W. Mecom Sr., the father of the New Orleans Saints' first owner.
To earn extra money during her undergraduate years, she worked at an annual oil and gas trade show in Lafayette for $25 a day. She was asked to come back when she was in law school and came close to declining because of her class load, but, she said, she changed her mind when she realized that the $100 she would earn would pay for a coat she had put on layaway at Godchaux's.
She got more than a coat out of that gig. She met the man she wound up marrying. She and Patrick Taylor were married for 40 years until his death in November 2004.
"She was always at Pat's right hand, and she was the gentle dove in so many situations," said Carroll Suggs, a close friend who sits on the Taylor Energy Co. board and used to be a member of the foundation board.
Taylor's tie to her husband is still strong. She wears a square gold wedding band because, she said, "I'm still married."
"She has tried to carry on his amazing legacy of things he was passionate about," said Suggs, the former chairwoman and CEO of Petroleum Helicopters International.
"She has continued to do that in so many wonderful ways," Suggs said. "She has built the Patrick F. Taylor Foundation into a legacy of a foundation that embodies her and Pat's deep interest in uplifting the entire community, mainly through education."
The Taylors' most conspicuous legacy is the Tuition Opportunity Program for Students, better known as TOPS, a taxpayer-financed program that covers tuition at state-run colleges and universities for qualified Louisiana high school graduates. Phyllis Taylor estimated that about 200,000 students have been TOPS beneficiaries.
The program has become threatened because of Louisiana's budget shortfall of about $600 million. Both houses of the Legislature have approved a plan to cut every TOPS scholarship in the fall and spring semesters if the program winds up short of money.
While hardly ideal, Taylor said the program "elated" her because it wouldn't take all the money from students with low grades and entrance-examination scores who, she said, probably need such help most.
She has been known to lobby and testify before committees, "but mostly I let professionals do that," Taylor said.
"She's strong and capable," said Byron LeBlanc, a cousin. "She's not easily swayed. She will stand up to people and do what's right."
Her resume attests to her activity, with honors from 42 organizations and memberships over the years on 24 boards.
Despite Taylor's decades of activity, "she still has a childlike wonder of the world and an optimism for New Orleans and the world that will never be daunted," Bollinger said. "She knows that things are going to work out. With that kind of attitude, she kind of draws people in."
Moreover, Suggs said, "you see her sparkle when she's able to do things for other people that are going to make their lives so much better. It's remarkable."
Under Taylor's leadership, the foundation is working to decide how to direct its money.
"Do we just continue to sit back and let organizations come to us with requests, or are we going to become more pro-active and go out and seek potential causes and try to put partners together with us to solve issues?" she said.
"With the death of my husband, so much of this fell onto my shoulders," Taylor said. "Most of it was very good, but a lot of it was a great responsibility. We have no children, so I feel it's necessary for me to decide how the assets that my husband acquired are expended in a wise manner so, as time goes by and I get a little longer in the tooth, I think it's necessary for me to see how things will progress once I'm gone.
"That's why I want to work with the trustees of the foundation and set up a really good, viable program to put into practice now so that if the judgments we've made are in error, we can correct those, and I can kick off with a good conscience."
Frank T. Howard, 1901; Isidore Newman, 1902; Sophie B. Wright, 1903; Dr. A.W. DeRoaldes, 1904; Charles Janvier, 1905; W.R. Bloomfield, 1906; and Ida Richardson, 1907.
No awards were presented in 1908 or 1909.
Dr. Sara T. Mayo, 1910; Hugh McCloskey, 1911; R.M. Walmsley, 1912; Leon C. Simon, 1913; Deborah Milliken, 1914; W.B. Thompson, 1915; W.R. Irby, 1916; Mrs. John Dibert, 1917; Eleanor McMain, 1918; Mrs. James Oscar Nixon, 1919; Charles Weinberger, 1920; Jean Gordon, 1921; Rudolf S. Hecht, 1922; Simon Schwartz, 1923; Frank B. Williams, 1924; Rabbi Emil W. Leipziger, 1925; and W.J. Warrington, 1926.
J.P. Butler, 1927; Brig. Gen. Allison Owen, 1928; Mrs. A.J. Stallings, 1929. Edgar B. Stern, 1930; B.C. Casanas, 1931; Thomas F. Cunningham, 1932; Felix P. Dreyfous, 1933; Charles A. Favrot, 1934; Warren Kearny, 1935. Nicholas Bauer, 1936; Col. L. Kemper Williams, 1937; and Samuel Zemurray, 1938.
Joseph A. Airey, 1939; Dr. Rudolph Matas, 1940; Charles E. Dunbar Jr., 1941; William G. Zetzmann, 1942; Sister Stanislaus Malone, 1943; A.B. Paterson, 1944; Dr. Alton Ochsner, 1945; Mrs. Joseph E. Friend, 1946; Mrs. Charles F. Buck Jr., 1947; Charles E. Fenner, 1948; Mrs. James Weaks Reily, 1949; and Harry Latter, 1950.
Harry McCall, 1951; Joseph H. Epstein, 1952; Mrs. Ernest A. Robin, 1953; Carmelite Janvier, 1954; A.B. Freeman, 1955; Clifford F. Favrot, 1956; Capt. Neville Levy, 1957; Crawford H. Ellis, 1958; James Gilly Jr., 1959; Martha Gilmore Robinson, 1960; Leon Heymann, 1961; Mrs. Robert Laird, 1962; and Percival Stern, 1963.
Edith Stern, 1964; Darwin S. Fenner, 1965; Edgar A.G. Bright, 1966; Rabbi Julian B. Feibelman, 1967; Harold Salmon Sr., 1968; Lucile Blum, 1969; Lester J. Lautenschlaeger, 1970; the Rev. J.D. Grey, 1971; Clayton L. Nairne, 1972; Norma Monnin Hynes, 1973; William B. Burkenroad Jr., 1974; Francis C. Doyle, 1975; Albert W. Dent, 1976; Richard West Freeman, 1977; the Rev. Peter V. Rogers, 1978; and Harry McCall Jr., 1979.
James J. Coleman Sr., 1980; Armand LeGardeur, 1981; Archbishop Philip Hannan, 1982; Ed Rowley, 1983; Rosa Freeman Keller, 1984; Bryan Bell, 1985; Michael J. Molony Jr., 1986; Mary Pumilia, 1987; A. Louis Read, 1988; Dave Dixon, 1989; Carolyn Gay "Blondie" Labouisse, 1990; Norman Francis, 1991; and Diana Lewis, 1992.
John F. Bricker, 1993; Betty Wisdom, 1994; Anne Milling, 1995; Lester Kabacoff, 1996; Leah Chase, 1997; Sunny Norman, 1998; Herschel L. Abbott Jr., 1999; Alden McDonald, 2000; Waldemar Nelson, 2001; C. Allen Favrot, 2002; Fran Villere, 2003; Moise Steeg Jr., 2004; Louis Freeman, 2005; Ruthie Frierson, 2006; Bob Brown, 2007; R. King Milling, 2008; Scott Cowen, 2009; Tommy Cvitanovich, 2010; William Goldring, 2011; and Mark Surprenant, 2012; Millie Charles, 2013; and Gary Solomon, 2014.