The Illustrious Artworks of Michael Drury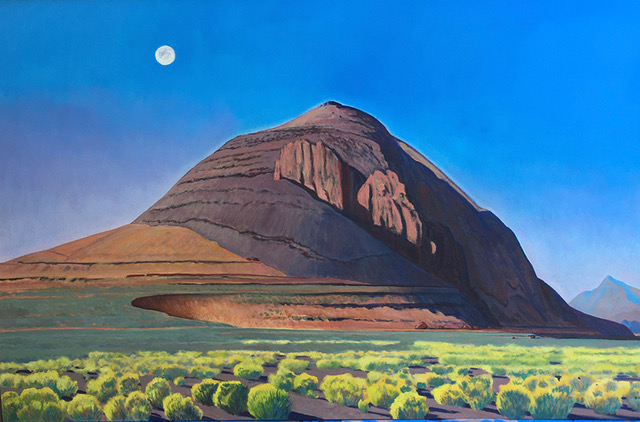 In his upcoming exhibit, Far and Near, at the Santa Barbara Fine Art Gallery, Michael Drury explores the illustrious landscapes of California, Nevada, and Ireland, immersing the viewer in these locations with his distinctive style of plein air painting. While this exhibit captures vistas far and near, Drury got his start in painting more near than far.
Drury is originally from the area – born in Cottage Hospital and growing up on the Riviera, where he still lives. His dad was a talented amateur painter so he developed an early interest in art, always having the tools around him at home. His parents wanted him to become a professor of literature. He did take courses in the major, but eventually his longtime passion for art drew him in, graduating with a BA and MFA from UCSB.
At the time he was at Hollister Ranch, where he lived for 25 years, cruising the waves on his surfboard and painting the sites around him. "For the first couple of years, I surfed by myself a lot. It was something that will never be repeated unfortunately," says Drury, "But in the meantime, I just painted." It was when he met esteemed plein air artist Ray Strong in 1970 that he went from a "surfer that painted to a painter that surfed."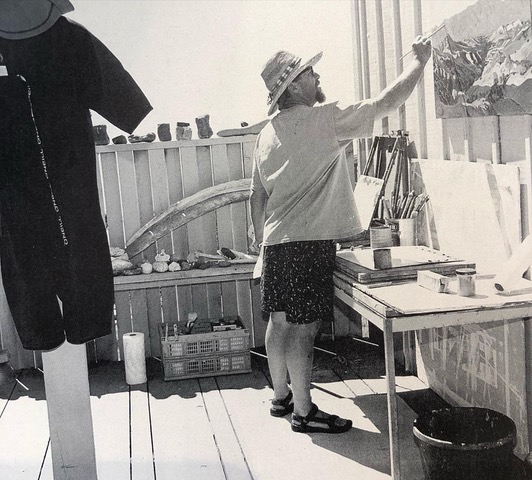 He adds, "Then I met Ray and got better, and I realized that there were decisions to be made about what I was going to do with my life. And Ray said, 'Well, you know, you have a choice. You could get your PhD in lit and all that stuff, but you might be happier being a painter – you will be impoverished, but you'll be happy.' And I thought, yeah, okay, I'll do that."
We did not cover financial success in our chat, but Drury did speak with clear contentment about his experiences from the path of painting. As we talked, he referenced remote structures off lost highways and described the notable rocks and trees he's found along the way with the intricacy of someone who has spent countless hours capturing these sights in paint.
Looking at his body of work, the paintings seem to realize more than just what was there when he painted them. What stands out is the way in which he frames the composition and the colors he chooses to represent it. There is a brilliance to his palette – colors are sharpened as if touched by fresh rain, the amplified hues resonating through the foliage and into the lighting and shading of every precipice and stroke.
Many of the works have a central feature that makes its presence known. "I look for significant form. That's what I look for," says Drury. "A big rock, something big, or Point Conception – the chunk of point itself – casting a shadow on the ocean. Yeah, I like to make statements like that."
As our conversation continues, Drury discusses his use of "simultaneous contrast" in his works. This technique incorporates contrasting scale, colors, and other qualities of different objects to influence and enhance the presence of one another. Mr. Perkin's Barn, Fort Bidwell is one of the standout pieces in the show and a clear example of this technique. In it, a colossal barn sits up front, its roof jutting into the sky. Far-off mountains seem to droop behind the immediacy of the barn's bracing presence. The sun's rays shine from behind the barn, hidden from the viewer except for where they break through the weathered wood. The light's sheltered warmth adds a background glow that contrasts with the dark umber hues of the barn and its looming form.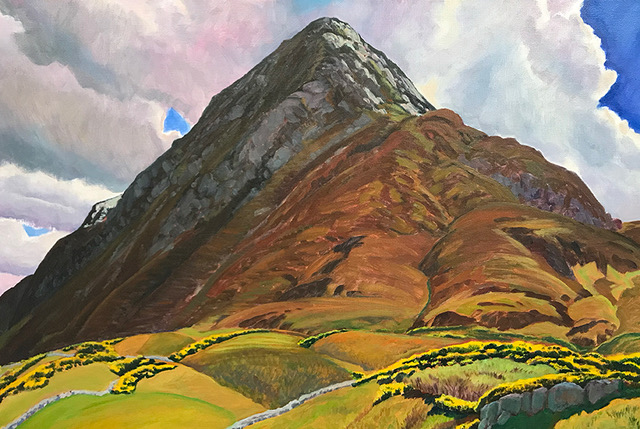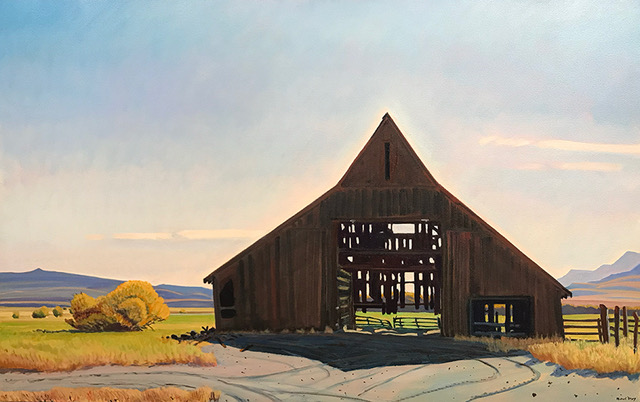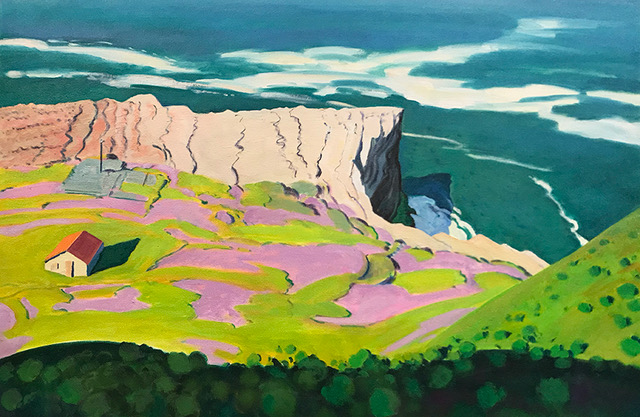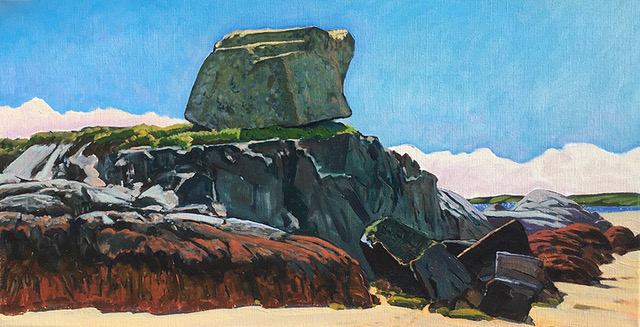 Many of his paintings feature barns and withered structures, seemingly forgotten in time, but Drury notes that many of them are still being used. As our attention and conversation is drawn towards Old Dairy Above Drakes Beach, he describes the history of the buildings and how the small town was founded on a marsh. In the painting, the structures straddle the eyeline of the ocean horizon, looking as if they are slowly sinking into the memories of themselves.
From the effects of lightning strikes to the deterioration of structures over time, each piece tells a story of where that area has been. These works illustrate his appreciation of both the splendor of nature and the beauty it forms over time – which is also evident in his position on the Historic Landmark Commission.
Drury's upcoming exhibit at Santa Barbara Fine Art Gallery will feature about two dozen works that have never been exhibited before. These pieces span the coast and inland scenes of California and Nevada, with around six pieces painted in Ireland, Drury being of Irish heritage himself – taking visitors both Far and Near his painted experiences.
There will be an art opening this Thursday, April 7, from 5 – 8 pm at Santa Barbara Fine Art Gallery
(1321 State Street). An artist talk will take place on Sunday, April 10, from 2 – 4 pm. Visit santabarbarafineart.com for more information and to see the featured artworks.