How The Baton Rouge Serial Killer Was Taken Down By A Victim's Fingernails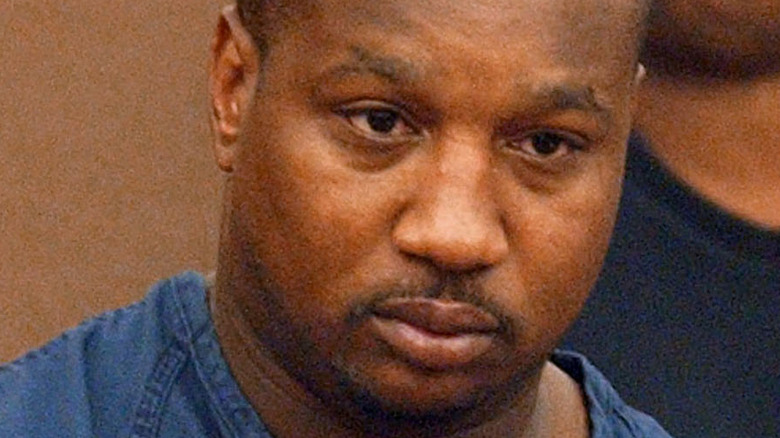 Known as the Baton Rouge killer, Derrick Todd Lee is thought to have killed at least seven women between 1998 and 2003 (via Murderpedia). Per CNN, those who knew the Louisiana native described him as an attractive and pleasant man. Even so, Lee did have a criminal record, which included burglary, peeping tom incidents, and stalking. Oxygen writes that police long-suspected that he had killed Connie Warner, a woman from Zachary, Louisiana, in 1992. That being said, there was never any evidence to tie Lee to the crime scene. Moreover, it's believed that he was also involved in the 1998 disappearance and presumed murder of Randi Mebruer. Mebruer was also from Zachary and has never been found.
Lees' luck ran out in the early 2000s. According to WBRZ, Gina Wilson Green, Pam Kinamore, Trineisha Dene Colomb, and Carrie Lynn Yoder were all brutally murdered between 2001 and 2003. Interestingly, the victims physically resembled each other — all had brown hair and light-colored skin (per Susan D. Mustafa). Authorities took DNA evidence from each crime scene, which would later be key in solving the murders.
Geralyn DeSoto's family strongly believed she was murdered by a serial killer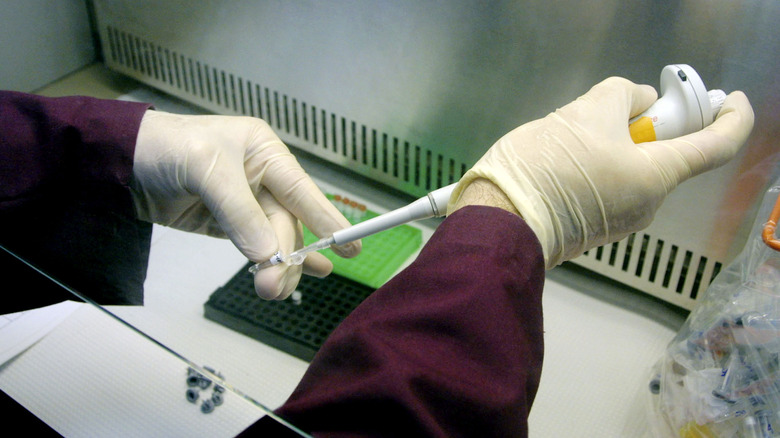 On January 14, 2002, Geralyn DeSoto was murdered in her home in Addis, Louisiana home (via WAFB). The LSU grad student was only 21 years old. According to Susan D. Mustafa, DeSoto was found by her husband when he returned home from work later that day. In fact, WBRZ writes that police suspected that he had been the one who had killed her. Although DNA evidence was present, it did not yield any results when it was tested, and her murder remained unsolved (per another article from WAFB). Only a few months later, 22-year-old Charlotte Murray Pace was murdered in her Baton Rouge apartment.
Per WBRZ, she had been stabbed to death and sexually assaulted. After Pace's murder, DeSoto's family noticed some eerie similarities between the two crimes (via KPLC). Both DeSoto and Pace were grad students at LSU and had been murdered around the same time of day. Moreover, they had been beaten and stabbed. Whoever had killed the two women had also taken their phones and slashed their throats. Ultimately, this led DeSoto's family to believe she was the victim of a serial killer.
In July 2002, Diane Alexander was violently attacked in her home by a man that had asked to use her phone (per WBRZ). She survived and was able to provide police with a sketch of the suspect. Authorities instantly noticed the similarity between the sketch and known criminal Derrick Todd Lee (per CNN).
If you or anyone you know has been a victim of sexual assault, help is available. Visit the Rape, Abuse & Incest National Network website or contact RAINN's National Helpline at 1-800-656-HOPE (4673).
Derrick Todd Lee was convicted of DeSoto's death
In May 2003, a DNA sample was taken from Derrick Todd Lee (per CNN). Soon after, Oxygen reports that DNA testing concluded that he was connected to the murders of Gina Wilson Green, Charlotte Murray Pace, Pam Kinamore, Trineisha Dene Colomb, and Carrie Lynn Yoder. According to WAFB, the DNA evidence from Geralyn DeSoto's murder was re-tested and found to be a match with Lee. He was subsequently charged with second-degree murder (via another article from WAFB).
At Lee's trial, prosecutors explained that his DNA was found in DeSoto's fingernails. In other words, she had fought back. Moreover, bloody footprints on the scene matched a pair of boots that Lee owned. He was found guilty of DeSoto's murder and sentenced to life in August 2004. In October of that same year, he was also found guilty of Pace's murder (per WBRZ). In December 2004, The Times-Picayune reported that Lee was sentenced to death by lethal injection for Pace's murder. Although he was only convicted of two murders, his DNA ultimately linked him to seven other crimes, including Randi Mebruer's disappearance (via Oxygen).
However, Susan D. Mustafa writes that Lee is believed to have killed several other women in Louisiana before he was caught. He remained on death row at Louisiana State Prison until his death at 47 from heart disease on January 21, 2016. With news of his death, the loved ones of the victims expressed their relief (per The Advocate). Prior to his death, Lee had made several appeals and was attempting to overturn his death sentence.