10 cartoon cake ideas with comic book cake trend


This page may contain affiliate links and we may be compensated if you make a purchase after clicking them. As an Amazon associate I earn from qualifying purchases.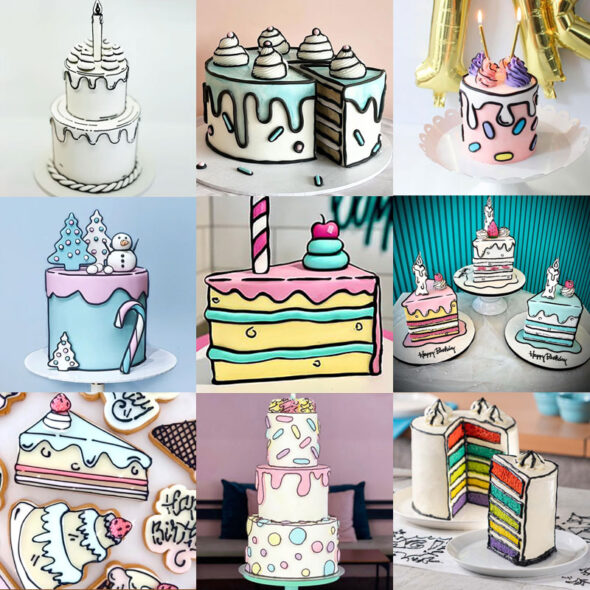 We can't help but love the latest cartoon cake decorating trend where the cakes look just like 2D cartoon drawings. We've seen comic cakes on Tik-Tok and just couldn't get enough, so we've pulled together a list of our favorite 10 cartoon cake ideas.
What is a comic or cartoon cake?
Comic cakes or cartoon cakes are regular cakes that are decorated to look like 2D cartoons. The resulting look is very whimsical and looks more like a drawing than a cake. The key to the comic cake look is a very limited color palette of only two or three colors, usually pastel, which are then outlined in black. Most cake decorators use extruded black fondant or thinly piped black icing for the outlining so that it looks the shapes are outlined in black ink. Some cartoon cakes even go further by using only black and white, making the cake look like a line drawing.
1: Slice of birthday cake by Tigga MacCorkmack
This whimsical slice by Tigga MacCorkmack looks like it came straight out of a Simpsons episode.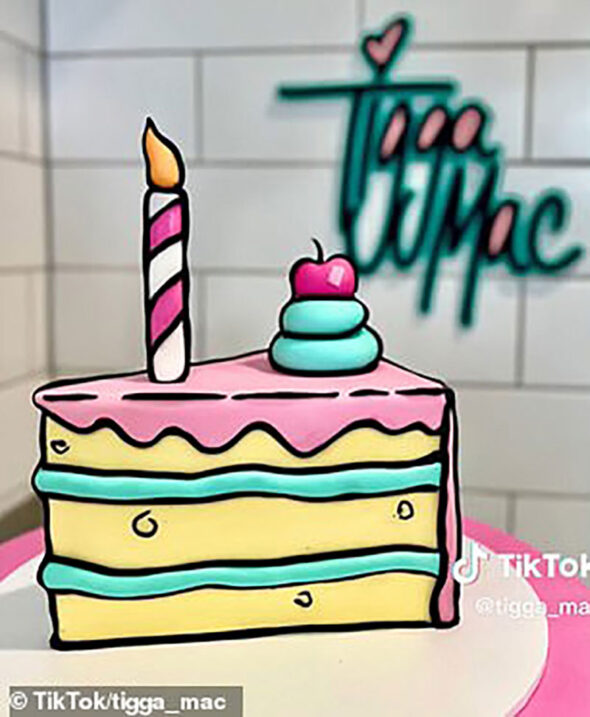 2: Whole birthday cake by Yummy Bakes
Here's a whole cake, instead of just a slice, created by Yummy Bakes. We think the candle on this is just amazing.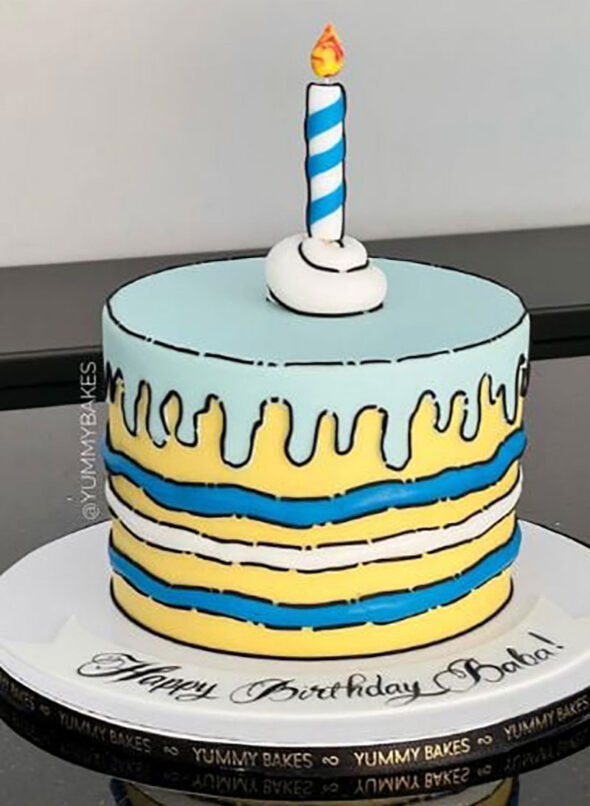 3: Icing swirled cake and slice by Party with Grazer
We think Party with Grazer did a great job making the swirls of icing on top of this masterpiece even look like a comic strip. And that cut slice with the layers outlined is such a fun touch.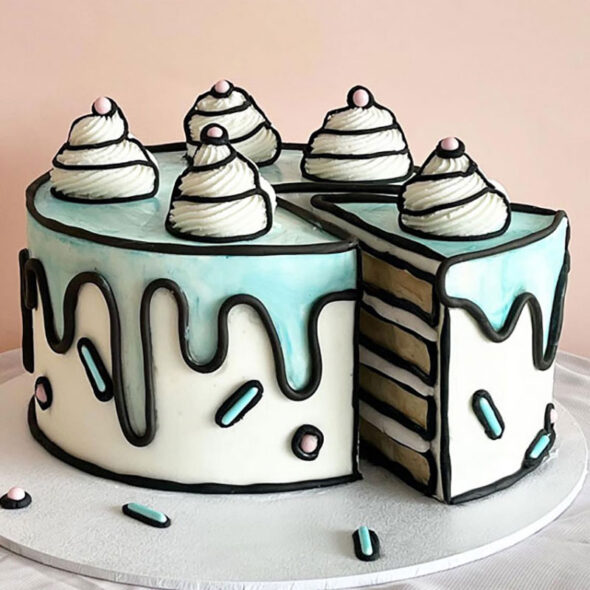 4: Trio of slices by Zeina's Cakery
Zeina's Cakery is knocking it out of the park with this trend. These three perfect cake slices are show how easy it is to change the look just by swapping out the colors.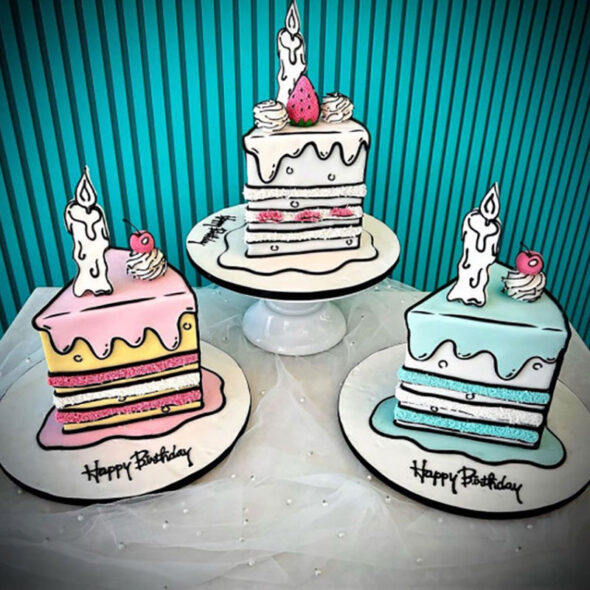 5: Comic cookies by Zeina's Cakery
As if cakes weren't enough, Zeina's Cakery has even ventured into comic cookies, which look just as adorable.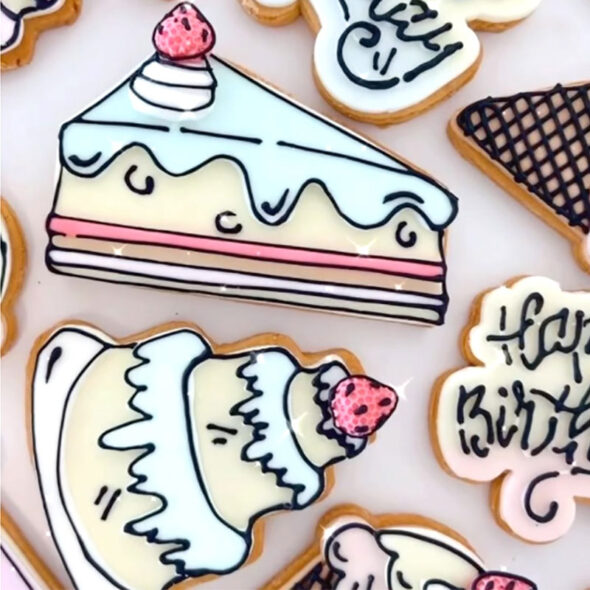 6: Rainbow layers
This rainbow cake has the cartoon outlines on the layers, making it look like a vibrant cartoon inside and out. The bright rainbow layers are a perfect complement to the whimsical outside.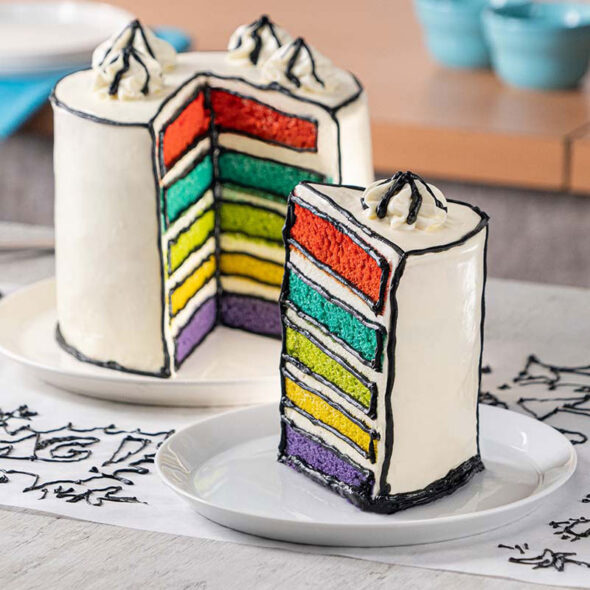 7: Black and white cake by I Love Cakes
The simple black and white outline of this two-tiered cake by I Love Cakes looks just like a line drawing, and we can't get enough of it.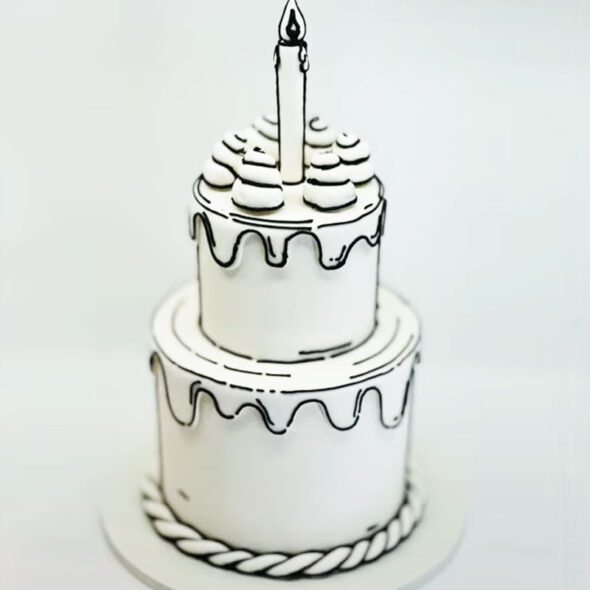 8: Oversized sprinkles by The Cake Dresser
We adore the oversized sprinkles that The Cake Dresser added to this tiny little cake. The contrast in sizes really caught our eye.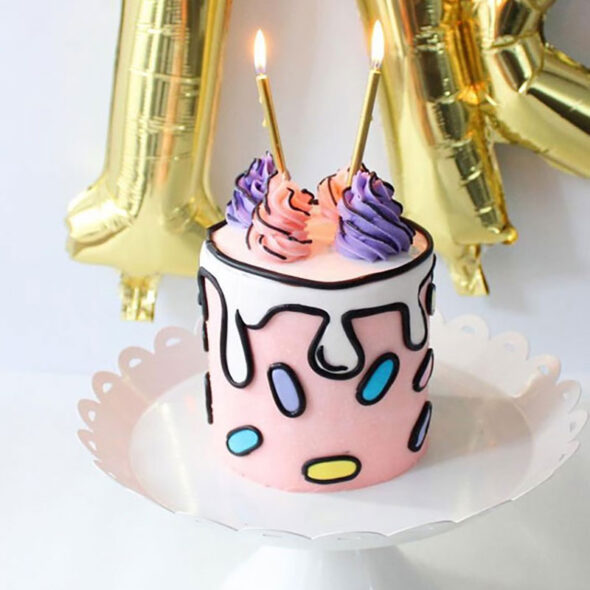 9: Winter cake with cookies by Amy's Little Cakery
This cartoon cake with matching cookies on top by Amy's Little Cakery might make this our favorite winter cake ever. The adorable snowman and pretty candy cane are perfection.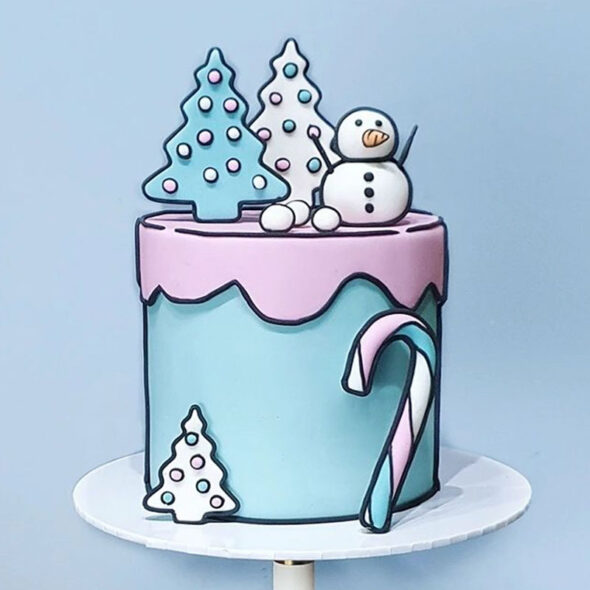 10: Three-tiered cake by Georgia's Cakes
This three-tiered comic cake by Georgia's Cakes made for her own birthday is stunning in its size and simplicity.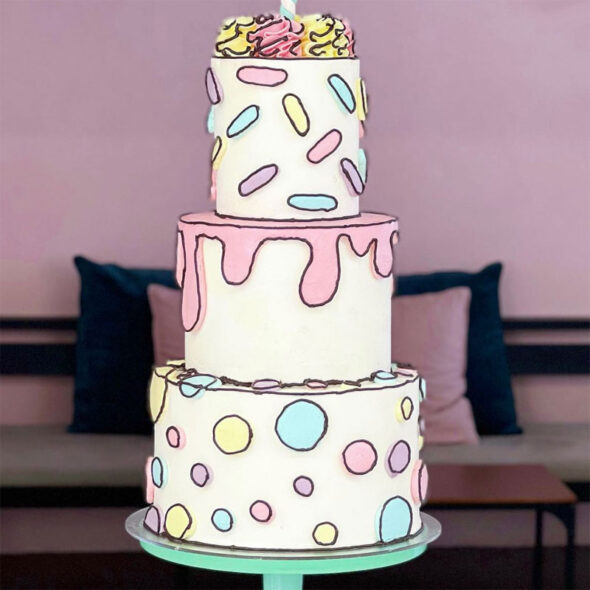 Beginner tips for making comic cartoon cakes
If you aren't confident in getting a super smooth finish on your cake's frosting base, order a plain cake from your local bakery and add your decorations to that.
Cut thinly rolled fondant in pastel colors into freeform shapes to place on top of your cake to create the drippy icing.
Use cookie cutters to cut shapes out of fondant to put on the sides of the cake. Simple shapes such as hearts, stars, and sprinkles all work well.
If you aren't comfortable with piping those black outlines on, try using a fondant extruder instead. It will help you make long strings of black fondant to outline all the cake features.
Less is more with this cake style. Use just a few colors when decorating and lean towards the pastels.