Unbeaten Teurlings Catholic to meet Lafayette Christian in highly anticipated District 4-4A matchup Thursday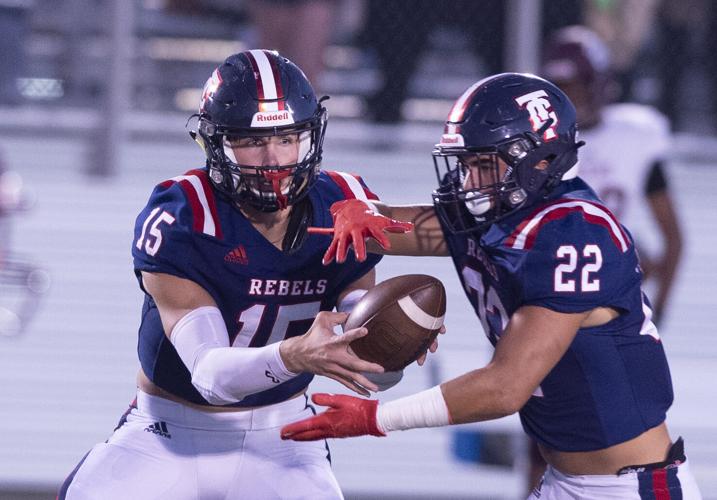 Teurlings Catholic quarterback Preston Welch and running back Tanner Brinkman are two of the Rebels' most explosive offensive weapons.
STAFF PHOTO BY BRAD BOWIE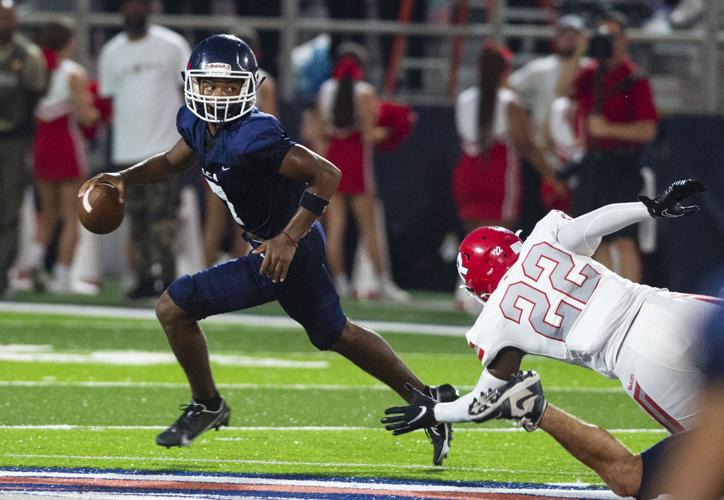 Lafayette Christian quarterback JuJuan Johnson (7) remains one of the top playmakers in the Acadiana area.
STAFF PHOTO BY BRAD BOWIE
For the second straight season, Teurlings Catholic has opened the season on a winning streak.
A year ago, the Rebels went 5-0 through their nondistrict schedule before falling to Carencro in the district opener. It started a four-game losing skid for Teurlings.
The Rebels (6-0, 1-0 District 4-4A) will continue their quest to win the school's first outright district championship since 2014 when they travel to face top-ranked Lafayette Christian at 7 p.m. Thursday.
"No rest for the weary," Rebels coach Dane Charpentier said. "LCA is the most complete team that we will have played this year. It's going to be a great game."
Both teams have explosive offenses, led by quarterback/receiver duos Preston Welch and Kentrell Prejean (Teurlings) and JuJuan Johnson and Alonzo Ryes (LCA).
"Teurlings has been very impressive when I've seen them on film," LCA coach Trev Faulk said. "They've been impressive in all three phases. They present a lot of problems offensively with all of the different shifting and formations. They are very talented, and Dane and his staff have done a great job."
Welch has completed 69 of 111 passes for 1,222 yards with 18 TDs and two interceptions.
Prejean has caught 26 of those completions for 693 yards and nine touchdowns.
"I can't say that I'm surprised by Teurlings' success so far because they have always been a successful program, even going all the way back to win Dane's dad, Sonny, was coaching," Faulk said. "They have a lot of experience in all of the right spots, and they have some dynamic playmakers. They have a big-time passing game, and people have to respect their explosiveness on the outside."
The Knights (5-1, 1-0) are equally explosive with Johnson, who has completed 59 of 104 passes for 1,288 yards, 14 touchdowns and one interception. The athletic Johnson has also rushed for 301 yards and four TDs on 60 carries. Ryes has 15 receptions for 484 yards with four touchdowns.
"LCA has an elite quarterback and that makes a huge difference at the high school level," Charpentier said. "The quarterback does a great job of making plays and he has the ability to turn a bad play into a good play."
Although the offenses are more than capable of putting on a show, it might not come easy as both defenses have been stout.
"Teurlings' defense has been really good, and they've done a great job of flying to the football," Faulk said. "They do a great job in coverage and in applying pressure."
"LCA's defense plays enough different schemes to keep you off-balance as a play-caller offensively," Charpentier said. "If you make plays against a defense like theirs, it is because you took it. They don't give you (anything); you have to earn everything against a defense like theirs."
One of the big matchups will be when Knights defensive back Ty Lee lines up against Prejean.
"(Lee) is a cover guy by trade," Charpentier said. "I'm sure they will try to match him up on (Prejean) at times. They are two great players, so it will be a great battle. It is going to be important that we protect, pick up blitzes and keep our quarterback clean."
Teurlings has other weapons — including receivers Bradford Cain, Hayden Vice and running back Tanner Brinkman.
"Preston does a great job of distributing the football," Charpentier said. "We want to get the football to the open guy.
"We don't care who scores the touchdown or how we score the touchdown, we just want to score."
Faulk said being successful against the Rebels is going to require the Knights excelling in all three facets of the game.
"This game is going to come down to us doing all of the things we always talk about like running the football, stopping the run and protecting the football," Faulk said. "But also, we have to win at the hidden yards. Against Westgate, Teurlings had some big returns in the kicking game that gave them short fields. We have to play well because all of those things are going to be big factors in determining who wins this game."