15 Best Louisiana Distilleries to Visit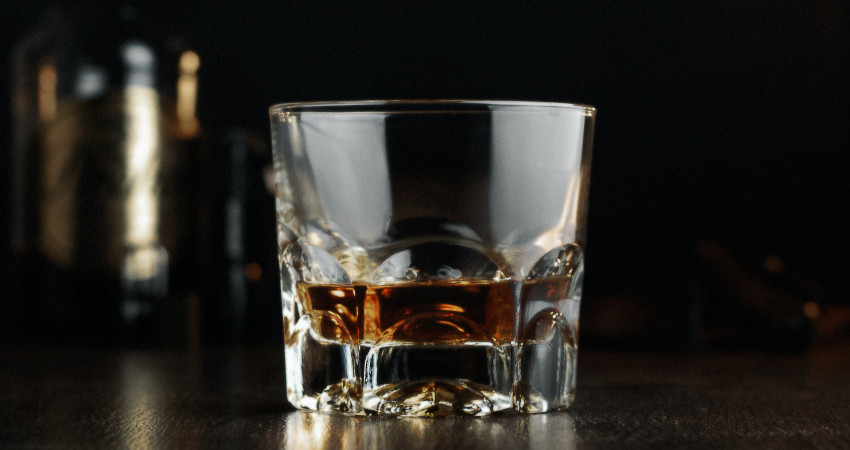 Visiting and touring Louisiana distilleries is a great way to sample Louisiana-sourced, Louisiana-made liquor and learn about its rich history.
Rum production in Louisiana can almost be considered a happy accident; if the French who came over in the late 1600s were successful in cultivating tobacco in Louisiana, it may never have happened.
Instead, the damp soil, high humidity, and hot summertime temperatures were more suited to sugar cane. Before long, sugar cane was being processed into molasses, which is the key ingredient in the distillation of rum.
Nowadays, Louisiana liquor has expanded into whiskey and bourbon, and Louisiana spirits such as gin and vodka are also now being produced.
Today, let's take a look at all the best Louisiana distilleries to visit and have tasting tours.
The Best Distilleries in Louisiana
Louisiana's distilleries are concocting a diverse array of liquors.
From the sweet, locally grown sugarcane that distills into strong rum to the European original absinthe, you will likely find a Louisiana-made liquor that suits your style and your taste.
In fact, the Louisiana Distillers Guild have been working with the state to create a state-official Louisiana Distillery Trail (inspired by the Kentucky Bourbon Trail and the Tennessee Whiskey Trail) to boost tourism and help grow agriculture, jobs, and the economy.
Let's take a look at some of the best distilleries in Louisiana.
New Orleans Distilleries
New Orleans has a rich cocktail culture and is ground zero for the spirits industry's largest event, Tales of the Cocktail®.
In fact, New Orleanians often boast that the first cocktail was invented right in this city (cocktail historians beg to differ, though).
Unsurprisingly, the craft distillery scene here is vibrant and diverse.
If you're already planning to make a couples getaway to New Orleans, set aside a day or two to explore the distilleries in the area.
1. Celebration Distillation

You certainly shouldn't miss visiting the oldest continually operated craft rum distillery in the US.
Celebration Distillation makes the award-winning Old New Orleans Rum made with molasses processed in a factory an hour away.
They also offer Gingeroos, which are ready-to-drink cocktails made with Old New Orleans Rum, organic ginger, locally sourced cane sugar, and local fruit.
Their newest offering is the Gris Gris Liqueur, made with Old New Orleans Rum, fresh pressed ginger, organic cayenne pepper, and house-made caramel.
Enjoy a behind-the-scenes look with their 45-minute distillery tour that includes a welcome cocktail, a tasting of a selection of their products, and an optional shuttle ride to the French Quarter.
Essential Information
Location: 2815 Frenchmen St., New Orleans, LA 70122 | 504-945-9400
Must-try Products: Old New Orleans Crystal Rum, Amber Rum, and Cajun Spice Rum
Distillery Hours: Mon–Fri 9am–5pm; Sat 11am–5:30pm; Sun 1pm–5:30pm
Tours: Mon–Sat: 12pm, 2pm, 4pm; Sun: 2pm, 4pm; Closed due to a fire as of May 2021 until further notice
Cost: $15 per head
Website: Celebration Distillation
2. Seven Three Distilling Co.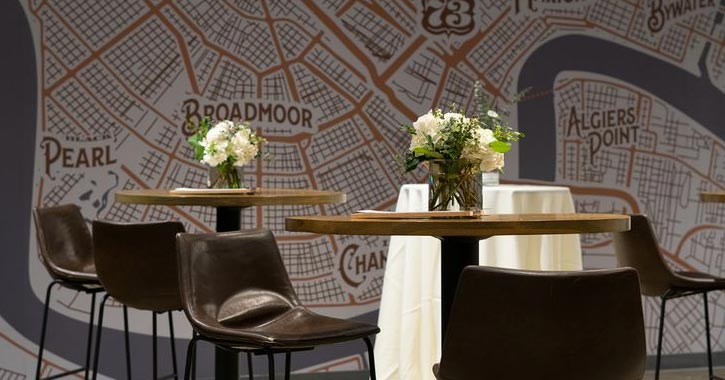 Seven Three is a small-batch distiller located at the heart of New Orleans, in a neighborhood known as "the birthplace of jazz."
They create rum, whiskey, gin, moonshine, and vodka using locally sourced raw materials and ingredients.
In case you're wondering about the name, Seven Three refers to the 73 neighborhoods comprising New Orleans. They take pride in having a sense of place, and in fact, their spirits are named after real New Orleans neighborhoods.
They offer a 45-minute guided tour of the production area where you'll learn about the history and tradition of distilling in New Orleans and you'll get to taste 6 Seven Three Spirits. A welcome cocktail is also included. Book your tour in advance on this page.
Essential Information
Location: 301 North Claiborne Avenue, New Orleans, LA 70112 | 504-265-8545
Must-try Products: Irish Channel Whiskey, St. Roch Cucumber Vodka, Marigny Moonshine
Distillery Hours: Wed–Thu 12pm–6pm; Fri–Sat 12pm–7pm
Tours: Wed–Thu 12:30pm, 3:30pm; Fri–Sat 12:30, 2pm, 3:30pm, 5pm
Cost: $15 per head
Website: Seven Three Distilling Co.
3. Lula Restaurant Distillery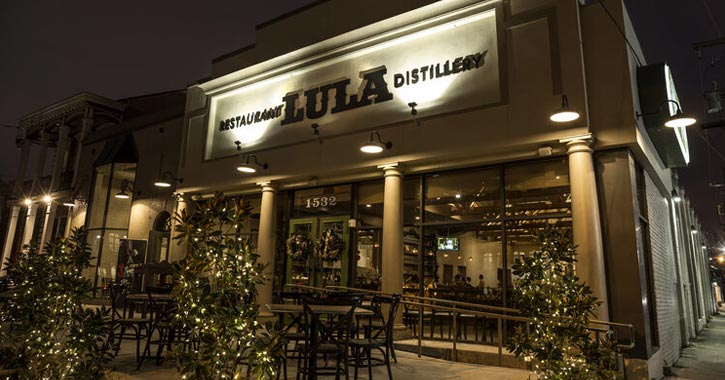 In a city that loves to eat as much as it loves to drink, it's appropriate that Lula is the first and only Creole/Southern restaurant-distillery in Louisiana is located in New Orleans.
They distill their rum, vodka, and gin in small batches, all made from locally sourced molasses, raw sugar, and botanicals.
Their menu offerings are excellent as well, featuring Southern cuisine that pairs perfectly with the spirits they're offering.
Essential Information
Location: 1532 St. Charles Avenue, New Orleans, LA 70130 | 504-267-7624
Must-try Products: Lula Rum, Lula Vodka, and Lula Gin
Restaurant Hours: Mon–Thu 12pm–9pm; Fri 12pm–10pm; Sat 11am–10pm; Sun 11am–9pm
Website: Lula Restaurant Distillery
4. Atelier Vie
Atelier Vie is an off-the-beaten path craft distillery under the Broad Street overpass. As they say in their website, just getting there can be an adventure.
Their first products were two types of absinthe (Toulouse Red and Toulouse Green), the Buck 25 Vodka, and the Riz rice whiskey.
Now, in addition to those products, they've been producing rum, brandy, bourbon, gin, and most recently, a single malt whiskey.
Their newest product is the Louisiana Single Malt Whiskey, which is made from malted barley and is the first single malt whisky in Louisiana.
All their ingredients are locally sourced; the wormwood for their absinthe, rice for the whiskey, and even the bay leaf for their gin.
Tasting room visits need to be scheduled at least a day in advance; email jedd[at]ateliervie[dot]com with your telephone number, preferred timeslot, and how many you are in the party (maximum 6 people per timeslot).
Essential Information
Location: 1001 S. Broad St., New Orleans, LA 70125 | 504-813-4700
Must-try Products: Louisiana Single Malt Whiskey, Calio Rum, and award-winning Euphrosine Gin #9
Tours: Sat and Sun 10am, 11am, 12pm, and 1pm
Cost: Free
Website: Atelier Vie
5. Roulaison Distilling Co.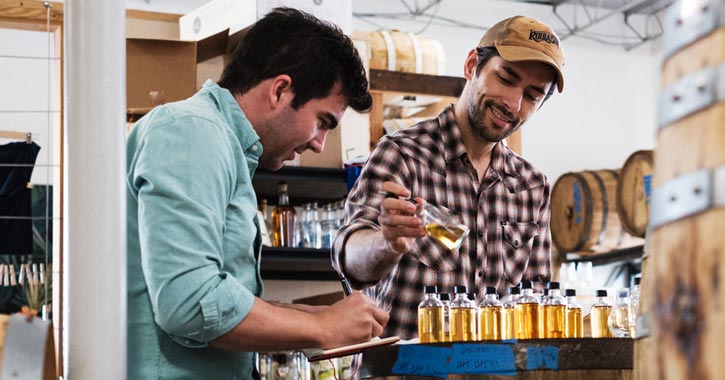 Roulaison Distilling Co. is an rum distillery tapping into traditional approaches to distilling, borrowing from Spanish, English, French, and Caribbean practices.
Their nano-sized distillery is one of the smallest Louisiana distilleries, producing rum and rum liqueurs with sugar cane sourced from Lafourche Parish.
Tours are suspended until further notice (check back on this page to find out when tours are back) but tastings for individual groups of up to four people are ongoing.
Essential Information
Location: 2727 S Broad Ave Suite #103, New Orleans, LA 70125 | 504-517-4786
Must-try Products: Traditional Pot Distilled Rum, Amer Herbal Rum Liqueur
Distillery Hours: Mon–Sat 12pm–6pm
Tasting Flights: Mon–Sat 1pm, 1:45pm, 2:30pm, 3:15pm, 4pm, 4:45pm, 5:30pm
Cost: $12 per head
Website: Roulaison Distilling Co
6. NOLA Distillery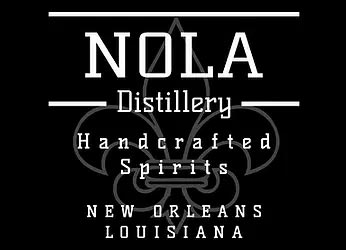 NOLA Distillery holds the distinction of being the only Louisiana distillery that uses sweet potato as a grain source for vodka. But they also create bourbon, rum, gin, and whiskey.
They offer tours of their recently remodeled distillery and serving craft spirits in their tasting room. Book your tour here.
Essential Information
Location: 3715 Tchoupitoulas St, New Orleans, LA 70115 | 504-598-5610
Must-try Products: NOLA Vodka, Hierarchy Vodka, Louisiana Tradition Whiskey
Distillery Hours: Thu–Sun 11am–6pm
Tours: Thu–Sun 1pm, 4pm
Cost: $15 per head; add $10 to get a bottle of Mardi Gras Vodka for a limited time
Website: NOLA Distillery
7. Happy Raptor Distilling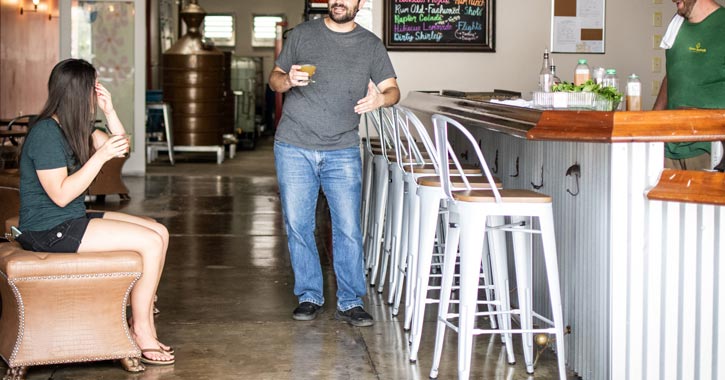 Happy Raptor Distilling started when owners Mark and Meagen got married and honeymooned in Martinique. Their experiences with Caribbean rum infused with multiple flavors inspired them to take it back to New Orleans.
Their signature line of 504Rum combines the Caribbean technique rhum arrangé with Louisiana flavors.
You can walk in on Fri to Sun nights to sample their cocktails (outside food welcome).
And you can book a distillery tour and tasting for up to 10 guests at a time.
They also offer a monthly cocktail class using Happy Raptor spirits.
Essential Information
Location: 1512 Carondelet Street, ​New Orleans, LA 70130 | 504-654-6516
Must-try Products: 504Hibiscus, 504Bananas Foster
Hours: Walk-ins and Table Seating: Fri–Sun 12pm–7pm; Pick-ups only: Mon–Thu 12pm–7pm
Tours: Mon–Sun 12pm, 1pm, 2pm, 3pm, 4pm, 5pm, 6pm
Cost: $15 per head
Website: Happy Raptor Distilling
8. Cajun Spirits Distillery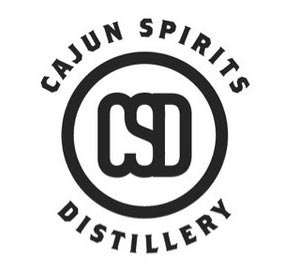 Cajun Spirits Distillery was founded in 2010 and has been creating small batches of top-quality vodka, rum, and gin ever since. All of them start with 100% Louisiana sugar cane base.
Their products have won multiple awards, both local and international.
They offer three different types of tours wher eyou can take a look at their production process and taste the available spirits.
Essential Information
Location: 2532 Poydras St, New Orleans, LA 70119 | 504-875-3592
Must-try Products: Crescent Vodka, Tresillo Rum, 3rd Ward Gin
Distillery Hours: Thu–Sat 3pm–8pm; Sun 11am–8pm
Tours: Thu–Sat 3pm, 4pm, 5pm, 6pm, 7pm; Sun 3pm, 4pm, 5pm, 6pm
Cost: $20 to $40 per head
Website: Cajun Spirits Distillery
Baton Rouge Distilleries
In the last few years, craft distilleries have been cropping up in Baton Rouge as well, fitting in nicely with the capital city's famous food scene.
9. Baton Rouge Distilling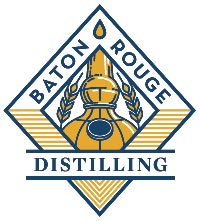 Baton Rouge Distilling opened in 2014 and is the first operating distillery in Baton Rouge since Prohibition.
In 2016, they released their first product, a strawberry brandy made from Louisiana strawberries. Recently, they've released rye whiskey and Louisiana bourbon.
They don't have a set schedule for tours, but check back on this page or on their Facebook page to be updated when they do open.
Essential Information
Location: 11616 Industriplex Boulevard, Suite 21, Baton Rouge, LA 70809 | 225-614-2616
Must-try Products: Strawberry Brandy, Rye Whiskey, Louisiana Bourbon
Website: Baton Rouge Distilling
10. Three Roll Estate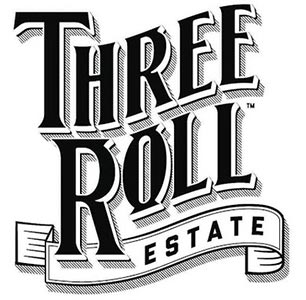 Three Roll Estate, formerly called Cane Land Distilling, is located in downtown Baton Rouge. The sugar cane they use for their products is grown, harvested, and refined at the Alma Plantation and Sugar Mill, which has been operating since 1844.
Their specialty is rum, and they take pride in being a single estate distillery; that is, they process their own sugar cane to make their own ingredients for distillation. In fact, the "Three Roll" in their name refers to the three-roll mill they use to process sugar cane.
That's why their rum, rhum agricole, and vodka are referred to as Cane to Glass™.
Their distillery tour and spirits tasting allows guests to learn about the history of Louisiana sugar cane and sample some of their award-winning products. Maximum number of guests in a party is 15.
Essential Information
Location: 760 St. Philip Street, Baton Rouge, LA 70802 | 225-615-8044
Must-try Products: Rhum Agricole, Brazilian-Style Rum, White Rum, Pure Louisiana Vodka
Tours: Wed–Sun 12pm, 2pm, and 4pm
Cost: $15 per head
Website: Three Roll Estate
11. Sugarfield Spirits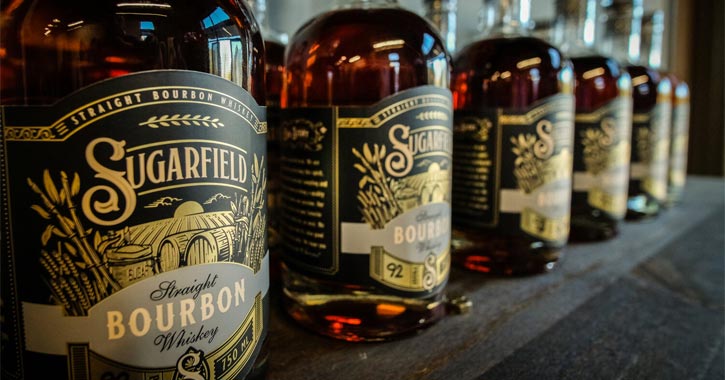 Perhaps the youngest of these Louisiana distilleries, Sugarfield Spirits was founded by brothers Thomas and Andrew Soltau in January 2020.
Their philosophy comes from French winemakers, who approach each barrel as a unique creation that reflects the specific year, season, weather, land, skill, and more.
As a result, they offer craft rum, gin, vodka, bourbon, and liqueurs in small batches. They've also started to make Bloody Mary mixes, one made with cayenne peppers and one made with crab, shrimp, and lobster. The details of each release is on their website with all the ingredients and processes that went into it.
The one thing you can count on is the quality of the products.
There isn't any way to book a formal tour that I can find, but drop by their distillery during their opening hours and order their spirits straight, on the rocks, or in a cocktail.
Essential Information
Location: 481 West Eastbank Street, Gonzales, LA 70737 | 225-647-2029
Must-try Products: Premium White Rum, Bourbon, Coffee Liqueur
Distillery Hours: Wed–Fri 3pm–9pm; Sat–Sun 12pm–9pm
Website: Sugarfield Spirits
12. Laissez Versez

Laissez Versez fills a niche in Louisiana distilleries: a variety of flavors that combines the traditional with the experimental.
They produce small-batch whiskey and flavored liqueurs with such whimsical flavors as cinnamon, coffee/caramel/chocolate/cherry, and even a wedding cake liqueur.
Laissez Versez uses locally sourced ingredients as well to help small businesses and farmers in their area.
Drop by during their opening hours and you might be able to catch one of the founders and have a tasting tour.
Essential Information
Location: 14141 Airline Hwy, Bldg 3 Suite U, Baton Rouge, LA, 70817 | 225-953-7687
Must-try Products: Laissez Versez Whiskey, C'est Bon Liqueur, Flambeaux Liqueur
Distillery Hours: Thu–Fri 5pm–8pm; Sat 1pm–8pm
Website: Laissez Versez
Lafayette Distilleries
The heart of Cajun and Creole Country, Lafayette is part of the Acadiana region of Louisiana. Known as the epicenter of Cajun cuisine, its craft breweries and distilleries are quickly catching up.
13. Wildcat Brothers Distilling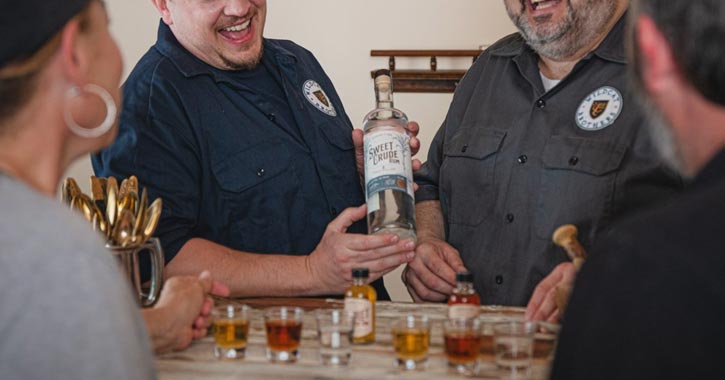 Wildcat Brothers Distilling is the first rum distillery in Acadiana, producing their first spirits in 2011 and specializing in craft French Style rums.
They recently expanded their business and are currently moving into a historical property called Gator Cove, known for their crawfish boils and alligator sightings. The property is now in the process of turning into a craft cultural center, with Cajun cooking classes, Acadiana festivals, tours, and their distillery built right into the space.
They're still making renovations to their space and building the distillery on the Gator Cove property, so there aren't tours presently. They do offer a 90-minute class about the Wildcat Brothers Heritage line of rum, a bit of history, and maybe a few products not yet on the market.
The class costs $15 and each visitor gets to take home a Wildcat Brothers signature sipping glass. Book a class here.
Essential Information
Location: Gator Cove, 2601 SE Evangeline Thruway, Lafayette, LA 70508
Must-try Products: Sweet Crude, Noire
Distillery Hours: Wed–Fri 1pm–3pm
Website: Wildcat Brothers Distilling
Lake Charles Distilleries
The Lake Charles region of Louisiana is a fun juxtaposition of outdoor adventures with history and culture, family fun and festivals with casino nightlife. Louisiana's Playground is catching up with the local craft distilleries, as evidenced by these Southwest Louisiana distilleries.
14. Louisiana Spirits Distillery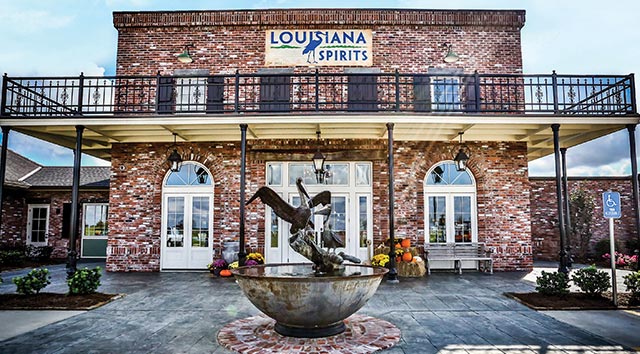 Louisiana Spirits Distillery is the largest privately owned rum distillery in the US, and a single estate distillery. In fact, their molasses come from the oldest family-owned and operated sugar mill in the country.
They make the award-winning Bayou® Rum and the Gator Bite™ liqueurs.
Louisiana Spirits Distillery is focused on sustainability as well. The thick liquid left behind in the distillation process is recycled into cattle feed, while any residual alcohols are sent to farms and refineries to be turned into biofuel.
They offer tours of the distillery where guests can learn everything about the production from fermentation, distillation, to aging. It ends with a rum tasting with rum cake.
Essential Information
Location: Bayou Rum Distillery & Event Center | 20909 Frontage Rd, Lacassine, LA 70650 | 337-588-5800
Must-try Products: Bayou® Reserve, Bayou® XO Mardi Gras, Gator Bite Satsuma
Distillery Hours: Tue–Sat 9am–5pm
Tours: Tue–Sat 10am, 11am, 1pm, 2pm, 3pm, 4pm
Cost: Free
Website: Louisiana Spirits Distillery – Bayou Rum
15. Yellowfin Distillery
Yellowfin Distillery produces top-quality vodka crafted from homegrown sugar cane from Gramercy, Louisiana. Fermentation, distillation, filtration, and packaging all take place at Yellowfin Distillery.
There are no added sugars or any other additives. The result is an extremely smooth vodka with a pleasant, clean aroma and a subtly sweet finish.
They offer tours and tastings whenever they're open.
Essential Information
Location: 1716 E Burton St. Sulphur, LA 70663 | 337-660-8373
Must-try Products: Yellowfin Otoro Single Estate Vodka
Distillery Hours: Mon–Thu 11am–5:30pm; Fri 11am–2pm
Cost: Free
Website: Yellowfin Distillery
Tips When Visiting Louisiana Distilleries
Whether you're a liquor connoisseur or an uninitiated beginner, distillery tours should be enjoyable. Here are some tips to have the best experience possible.
Leave the children at home or at the hotel.
Distilleries can often accommodate teens. Some even serve mocktails for those who aren't of drinking age yet.
However, small children generally wouldn't appreciate a trip to a place where they can't play or run or touch anything. Also, they may disrupt other adults' experiences.
Book your tour or call ahead of time.
Make an appointment at least a day ahead to make sure you have a timeslot for that day and so you can have more information about what to expect on the tour.
Hands off everything.
It's not a museum; it's an operational distillery crucial to people's business.
Those stills and casks may be pretty, but touching them is a big no-no. Creating world-class spirits is a delicate operation and distillers are sensitive to any outside disturbances.
So unless they expressly permit you, don't touch anything.
Plus, it's just plain rude.
Don't get drunk.
A tasting is not an excuse to get drunk. If you're going to a few distilleries in a day, make sure you have time for small snacks and water in between visits.
Buy something.
If you've noticed, most of the Louisiana distilleries in this list are small to medium businesses that patronize local businesses as well, so buying at least a bottle helps a lot.
Post on social media.
Had a great experience in a distillery? Post about it on Yelp and your social media!
As I've mentioned, these are nearly all small operations and would benefit very much from word-of-mouth advertising.
Keep in mind the best time in the year to visit these Louisiana cities.
New Orleans: February to May has comfortable temperatures and celebrations are in full swing. However, if you have no interest in Mardi Gras, December to January is when the city is calmer.
Baton Rouge: March through May and September through November are the months with the best weather and the ones with plenty of events.
Lafayette: October and November are the drier months, ideal for walking around.
Lake Charles: This region is blessed with mild climate and pleasant temperatures all year round, but if you're planning to do outdoor activities such as hiking and swimming or attend festivals, April to May are the ideal months to go.
Visit these Louisiana Distilleries soon!
The Louisiana food and drink scene is starting to grow, and there's no better time to explore them than now!
You'll get to visit and appreciate the different cities in Louisiana and their unique cultures and traditions.
If you're wondering what else there is to do in Louisiana, read our guide on the best things to do in Louisiana.
Which Louisiana distilleries sound most interesting to you? Which products are you intrigued by? Tell us what you think in the comments!