'What was so bad?': Mother seeking answers after accused Gremlins gang member arrested in son's homicide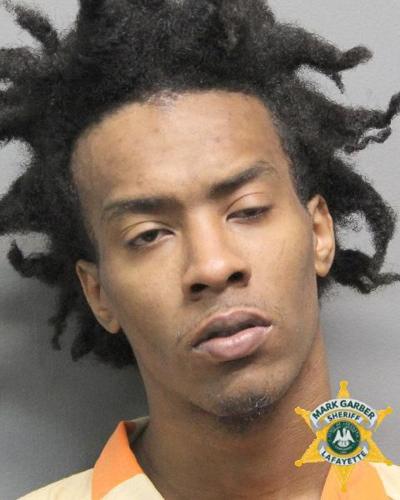 Denise Levine speaks about the death of her 16-year-old son Chazton Guidry, who was shot and killed one year ago, at a gathering to raise awareness of unsolved killings in Abbeville on Saturday, May 11, 2019.
ADVOCATE STAFF PHOTO BY KATIE GAGLIANO
On May 11, 2018, Denise Levine lost her only son, Chazton Guidry, when the 16-year-old was shot on the corner of Bailey and Clover streets in Abbeville. Two days after the anniversary of his death, Levine received a call that again shook her world: A man had been arrested in her son's homicide.
Aaron Carter was booked into the Lafayette Parish Jail on Monday on several bench warrants and a hold for second-degree murder for Abbeville Police. His bond has been set at $750,000 for the second-degree murder count, according to a release from Abbeville Police.
Carter has a criminal arrest record spanning Acadia, Lafayette, St. Martin and Vermilion parishes — the same area covered by the so-called Gremlins gang, which Carter allegedly belongs to.
Levine said since the call Monday she's been overwhelmed by a clash of emotions. She's thankful progress is being made in the case, but at the same time said she's been sick to her stomach reliving the loss of her child.
"I don't even know how to describe it. It's a feeling that you don't want another mother to endure," Levine said. "The pain, the heartache — it's unbearable."
Levine said she was unprepared for the arrest in her son's case. On Saturday, family members and loved ones gathered with other Abbeville residents to mourn victims of unsolved homicides and press the community and police to do more to solve the killings.
A day later, Guidry's family gathered on Mother's Day for a private balloon release in his honor. Having progress made on the anniversary of her son's death is stunning, Levine said. Her family has been praying for this day, she said.
"Our prayers are starting to be answered. God is good and he answers our prayers. He may not come when we want him to, but he always comes on time," Levine said.
The grieving mother said she's hoping the arrest will put her one step closer to closure and justice for her son. She said her daughter, Chazzmaine Guidry, is especially torn apart by lingering questions surrounding her brother's death.
Levine said the family knows as much about the details surrounding her son's death as the public.
Levine knows her son was shot inside a vehicle on the corner of Bailey and Clover streets May 11, 2018, and taken to a local hospital, where he later died. But Levine was barred from seeing her son's body until five days after his death, and she's received few answers since about the circumstances surrounding his shooting.
She said her family wants to know why.
"What did my child do to you to deserve the way that you killed him? What was so bad?" Levine said.
Levine said she knew Carter from news reports but didn't know him personally and didn't know her son to associate with him.
Carter has a lengthy criminal record but not all of his arrests are reflected in court proceedings.
Carter and 16 others were indicted on charges of racketeering, conspiracy to commit racketeering and engaging in a criminal street gang in December 2015 for association with the Gremlins, a gang historically operating out of Hayes and Oak streets in north Abbeville.
The group reportedly covers a four-parish territory including Acadia, Lafayette, St. Martin and Vermilion parishes, the indictment said.
The document claims, "members of the enterprise and their associates promoted a climate of fear through violence and threats of violence" and committed criminal acts for monetary gain and the preservation of the Gremlins' dominance, including murder, attempted murder, aggravated assault by drive-by shooting and other offenses.
In a December 2015 press release, law enforcement agents praised the multi-agency investigation that resulted in the group's arrest. Louisiana State Police Colonel Mike Edmonson said in the release the arrests have "once again produced results toward ensuring the safety of our citizens and removing criminal elements from our communities."
KPEL reported Louisiana State Police and the U.S. Marshals Service Violent Crime Task Force arrested Carter in Breaux Bridge on February 20, 2016. He was one of seven alleged gang members not arrested in the initial sweep in December 2015.
The grand jury indictment alleged Carter was involved in an Acadia Parish homicide on or about April 1, 2015, among other criminal activity. Carter's criminal record and court documents show he was arrested by Rayne Police in April 2015 on a count of principal to second-degree murder in the shooting death of 32-year-old Christopher Trent.
After posting bond for the racketeering and other gang-related charges September 23, 2016, Carter was again taken into custody in the Trent homicide case, court records show. Instead of principal to second-degree murder, a charge of accessory after the fact to second-degree murder was filed against Carter on December 15, 2016.
On May 4, 2018 the accessory charge against Carter was dismissed by the district attorney's office, records show.
After bonding out of jail in September 2016, Carter has been arrested at least seven other times, court documents and his criminal record show. Most of the arrests were in Lafayette Parish, on a variety of counts including simple battery, marijuana possession and illegal possession of a stolen firearm.
Aaron Carter's criminal record in Lafayette stretches back to October 2012 after an incident at Northside High School. He pleaded guilty to interference to resisting arrest and interference with an educational institution, both misdemeanors, court records show.
He later pleaded guilty to misdemeanor theft of goods under $500 after a July 2013 arrest and resisting arrest after refusing to stop during a traffic stop in December 2014, court records say.
He is currently awaiting three court dates in Lafayette for separate cases, including an Aug. 15 court date related to five bench warrants on which he was booked Monday; a June 11 court date related to resisting arrest, criminal trespass and marijuana possession charges from January and March 2019; and a June 17 court date related to drug and weapons charges stemming from January and May 2018, court documents show.
The Gremlins racketeering and street gang activity case is still waiting to go to trial.
Editor's note: A previous version of this story said Carter's accessory to second-degree murder charge was dismissed by the attorney general's office. The district attorney's office dismissed the charge. The Acadiana Advocate regrets the error.