What happened to Barbara Blount? 14 years later, her family is still desperate for answers.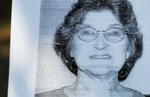 Fourteen years later, Ricky Blount remembers the last time he saw his mother.
The night before he started a new job, he drove over to his mother's remote house on La. 1036 in Holden. The cows had come in, and his mother was laughing about how one of them had gotten its head stuck in the hay ring.
"She was laughing so hard she couldn't hardly talk, and something told me, 'Remember this day,'" Blount said. "And the next day she disappeared."
Barbara Blount, then 58 years old, vanished from her quiet, rural home on May 2, 2008. Authorities found pots and pans stacked on her kitchen floor, part of a spring house cleaning.
More ominously, they also found her car abandoned in the woods on a nearby gravel road. A torrential downpour the day of the disappearance hampered investigators from collecting critical evidence.
More than a decade later, the case has gone cold.
"It's frustrating," said Livingston Parish Sheriff Jason Ard. "What happened to her? This is one of those cases that sticks with you."
Kristie Thompson, Barbara Blount's daughter, said the years have been hard on her family. They have not had much to go on.
"We don't know anything now more than the day it happened," she said.
'There is no crime scene'
Thompson was likely the last person to see her mother before she vanished. Every morning she would drop her dog off before work, and every evening she would return for pick up.
The morning Blount disappeared seemed the same as any other.
"She had all the pots and pans out of her cabinet, doing a little spring cleaning," Thompson recalled. "It was sunny, it was a spring day. She had her windows open in the kitchen."
Blount, whose husband died in a train collision in 2004, had been living alone.
When it began to rain around midday, Thompson called to check in with her mother, but she didn't answer. She dialed again and again. By 3 p.m., Thompson knew something was wrong.
She reached out to her cousin who lived down the road and asked if he would pop in to check on her. He reported that her car was gone, the door was cracked open and the pots and pans were still on the floor, she said.
"He hollered for her and he didn't answer," Thompson said. "He was still on the phone with me. He walked in every room and looked and said, 'She's not here.'"
They notified the sheriff's office immediately. Detectives found no sign of forced entry. Blount's valuables were left apparently untouched in plain view.
"There is no crime scene," Sheriff Ard told podcaster Woody Overton in an episode of Real Life Real Crime from 2020. "We had the FBI come in — it's the cleanest crime scene they've ever seen."
Too many dead ends
The rain that had begun to fall that afternoon progressed to a downpour, quickly flooding the area. By the time authorities found Blount's vehicle about a quarter mile north of her home, parked in a wooded area on a hunting club road, the water had risen to cover the car's floor boards.
"Mother nature was not on our side that day," Ard said.
Authorities, flanked by dozens of volunteers, canvassed the entire area, from woods to waterways. Ricky Blount remembers people wading chest-deep into standing water during the search.
Detectives interviewed everyone with a possible connection to Blount, while state police and the FBI helped them chase leads.
Nothing panned out.
At the 10-year anniversary of her disappearance, Ard mentioned there were "some pretty good suspects" in the case, but declined to name them. His attempts then to re-test DNA samples obtained from Blount's car also did not turn up anything noteworthy, Ard said this week.
"We're back to square one on that point," he said.
Ard has regularly released information on the anniversary of Blount's disappearance in an effort to jog the memories of people who might know something. In the last year, his office developed a new team with fresh eyes to review the evidence.
Ard spoke to Overton for his podcast several years ago in an unorthodox attempt to use the podcast's listening audience to source tips.
It's still unclear if someone Blount knew lured her from her home, or if a stranger passing by caught her off guard. Blount lived on a dead-end road with a gravel driveway; someone from the black-top roadway wasn't even able to see the house while passing, Blount's son said.
"We know we're going to eventually solve this case," Ard said "At the end of the day, God knows what happened. I just hope that person realizes that."
'I haven't given up'
Blount's two adult children say she was kind, caring and a regular churchgoer at Magnolia Baptist.
"She put other people before her," Thompson said. "There wasn't a mean bone in her body."
Ricky Blount said his mother was a "stay-at-home person" who worked hard and loved her family. He hopes they find her one day — especially since he now has two children his mother has never seen.
"Nobody has found a body yet, so I'm still looking," he said. "I haven't given up. It's 14 years, but I'm still looking every day."
Thompson believes her mother would never have left her home without a good reason, such as someone telling her the cows had gotten loose or one of her children was in a car wreck down the road.
"Somebody out there knows something," she said. "This can't happen without somebody knowing. If there is anybody out there that knows something, just come forward and let somebody know. It's not fair that they got away with this for this long."
But Thompson isn't hoping for a miracle. She wants peace.
"In my heart I know she's not here anymore," she said. "I know she's in a much better place."
Anyone with information on the Blount case is asked to call the Livingston Parish Sheriff's Office at (225) 686-2241 x1 or Greater Baton Rouge Crime Stoppers at (225) 344-STOP (7867).